3.75 inch Crimson Guard figure from GI Joe Real American Hero made by Hasbro. This figure came out in 1985 and was officially called as the Crimson Guard: Cobra Elite Trooper.
In the Marvel Comic book series the Crimson Guard functioned as an elite unit whose purpose was to infiltrate establishments. Most famous of this was the Fred series who all had plastic surgery done on their face so that they could look the same.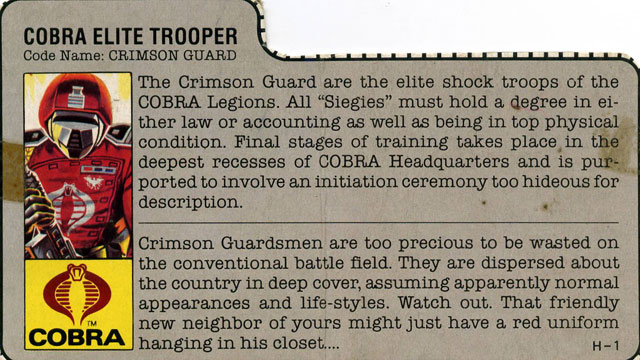 One story arc in the comic book had one of the Fred's as a squad member of Stalker, Snake Eyes and Storm Shadow during the Vietnam war. In another episode, one of the Fred's took over the personality of Cobra Commander when he said that he wanted to quit being the head of the Cobra organization. Quite interesting stories really that came out when
Larry Hama
was penning the GI Joe Comic Book at Marvel.
Cobra mask shaped back pack worn by the Crimson Guard. Very amazing detail on the Cobra logo at the back.
For a weapon the 1985 Crimson Guard figure came with an unknown assault rifle with bayonet attached.