First issue of the Leatherneck figure from the GI Joe Real American Hero line of 3.75 inch figures by Hasbro. Leatherneck was the Marine of the GI Joes and was one of the few GI Joe figures that came in a full cammo pattern. Which was very appealing to me at that time because the previous issue of toys didn't come in a full camouflage pattern. If I remember correctly it was the GI Joe figure Ripcord and the Cobra Figure Firefly that came in a full cammo pattern.
Leatherneck's Filecard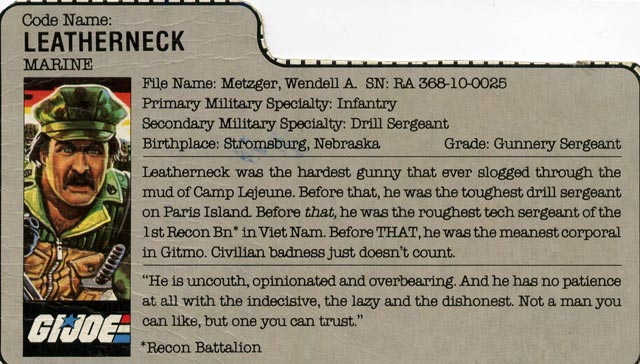 Walkie Talkie detail molded on to the leg
Two grenades detail molded on to the chest
Unidentifiable sidearm molded on to the thigh.
Combat knife molded on to the left chest of the Leatherneck figure
Backpack with canteen and sleeping bag detail
M16 rifle with M203 grenade launcher as the accompanying weapon loaded with what looks like a 30 round magazine.