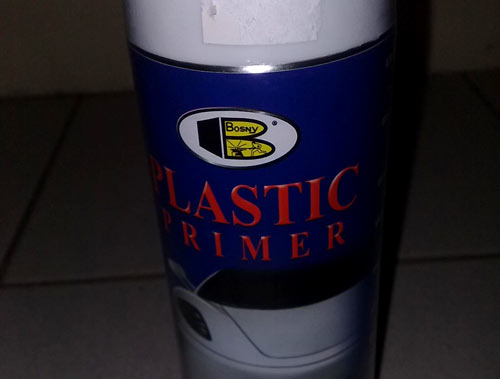 There's a line in the Bible that says: "Ask and you shall receive, seek and you shall find."
Well I did ask and was seeking
for some
Bosny Plastic Primer
and just like that a few days later I see it on shelf of a local hardware store. Thank You God!
Was looking for this because I wanted to see if it could be a good alternative to the
WINS/TOA plastic primer
that I've been using for my model kit building activities but could never find anymore.
Its a tad bit expensive though than the WIN/TOA Plastic primer. The WINS/TOA was selling for about $2.15 per 400 cc can while the Bosny Plastic Primer is selling for twice that at $4.35 per 400 cc spray can.
Am dying to test this out tomorrow since I have some parts of the Cherudim build that I will be primering prior to painting. I'll still be using the Bosny Primer Grey for the green parts however, because if I use this, the light color will give the green a lighter shade versus darker shade because of the grey of the bosny primer.
Ever since I experienced my first ever paint stripping issue, I've never painted a model kit anymore without first sanding then applying primer to the surface.
The literature on the back of the can is the same as what's written on their website:
Bosny Plastic Primer Spray is special formula with best adhesion on plastic substrates such as auto bumpers, spoiler, rigid rubber parts, plastic appliances and various plastic parts. It acts as adhesion primer on most hard to adhere substrates including aluminium, leather, vinyls and most plastic, namely PP, ABS, PS, PE and ets. Can be top coated with acrylic or alkyd paints as desired.

Directions for Use :
Surface should be clean from grease, wax, and dirts. For better results, lightly sand surface with sandpaper.
Shake can well before using.
Hold can 12-16 inches from object to be painted. Press spray button firmly.
When finished spraying, clean spray nozzle immediately by turning can upside down and push spray button from 10 seconds.

Remark :

For best results, allow "BOSNY" Plastic Primer Spray to dry for 10 minutes. Then apply top coat color as desired. If Bosny Plastic Primer Spray is left without any top coat over 30 minutes, it should be reapplied to ensure top coat will adhere fully over this primer.
I was surprised however with the last part where it said that you have to apply the top coat between 10~30 minutes after applying the plastic primer so that the top coat will adhere perfectly. That's something for me to keep in mind when using this specific plastic primer. I don't remember seeing this type of advice from the manual of the WINS/TOA plastic primer that I've been using.