Update:
Bandai just released the
Gundam LED light units for sale
as a separate kit, so its not limited anymore to just those kits that come with LED light units.
One of the latest gimmicks that Bandai has released for Gundam Model Kits is the presence of a LED light unit in the pack. This is especially true with the Gundam 00 line of model kits because of the GN drive that glows a "fairy" green when it is in operation. For other Gundam models it is usually used to light up the eyes, or mono eye for the one eyed mobile suits *snicker*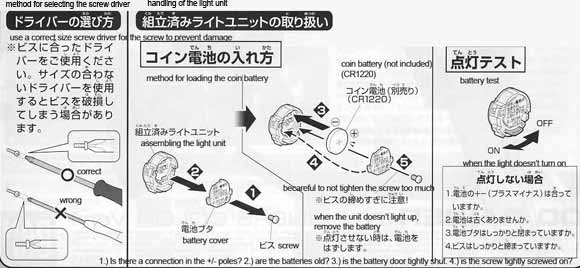 Above is the translated instruction on how to assemble, trouble shoot and maintain a LED light unit. This one was taken from the
instruction manual of the 1/100 00 Raiser Designer's color ver
. In order for the LED to light up, you will need a coin type battery mentioned above, but be sure to check the manual of your kit as the battery size might vary. You will also need a screw driver to screw on the door of the LED light unit.
LED light units are so cheap nowadays. I see some cheap disposable lighters having built in LED lights attached to them. A great source for LED lights that you can use to modify and adorn your model kits. It usually comes in plain color white, but I assume you can change that by applying a coat of clear paint, in the color of your choice, on top. Some modellers attest that cheap permanent markers also get the desired effect and offer a cheaper alternative.
The light of the LED unit in the disposable lighter however is too bright because they usually have 3 batteries attached to them because their purpose is to act as a flashlight. I'm guessing using one battery should be enough for a Gundam mod. Unless of course your purpose is to have beams of light shooting out of whatever it is you are trying to light up... hehehe
As always, be sure to not leave the light on unattended. There might be a chance that once the LED unit gets hot enough it might melt the plastic, or worse set the model kit on fire. Which could even lead to more disastrous results to your home.