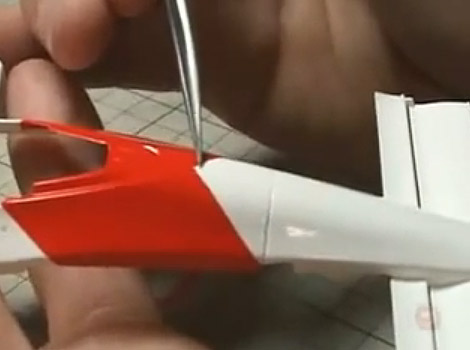 Being a newbie to 21st Century painting techniques, I used to think that by using
Tamiya Masking tape
alone one could hope to avoid the paint from seeping through the masking tape during spraying. After watching
this
episode of Plamo Tsukuro (Building Plastic Models), I found out that even the pro's suffer from that same mistake. Nice to find out too that there is a method for fixing this problem. There is a funny part in this exchange, wherein after explaining to the cameraman the problem of paint seepage that happened to the kit, the cameraman tells him "can't we just leave it as is?"... hehehe
The method detailed in the video was to first use an x-acto knife to cut off the excess paint from the main body of paint that is in the correct area. Then afterwards using
Finisher's Fine Compound
, polish off the excess paint from the affected area. Its important to cut off the paint first so that in the process of polishing, the paint in the correct area won't go with the paint being polished off.
Prior to seeing the video above I was doing the same method using 1500 grit sandpaper instead of the polishing compound. It works but you can easily notice the scratch marks made by the sandpaper. I guess with polishing compound this won't happen because of the fineness of the grit. Its just like polishing your brass door knob at home *snicker*
That's the corrective part, but I guess what modelers should really be worried about is the preventive action needed to stop it from happening. I notice that paint usually seeps through my masked area if I sprayed on too much. Tendency is that the masking tape will absorb the paint. One reason too why I use plastic sealing tape (the kind bread makers use to seal a loaf of bread in its plastic bag), because it clings more strongly to the plastic and doesn't absorb the paint. If the pattern to be made is complicated however (like a lot of curves and bumps), paint can still seep in through the sealing tape. I also use a flat curved object to push against the sealing tape to ensure that there are no gaps between the model part and the sealing tape that paint can enter through.