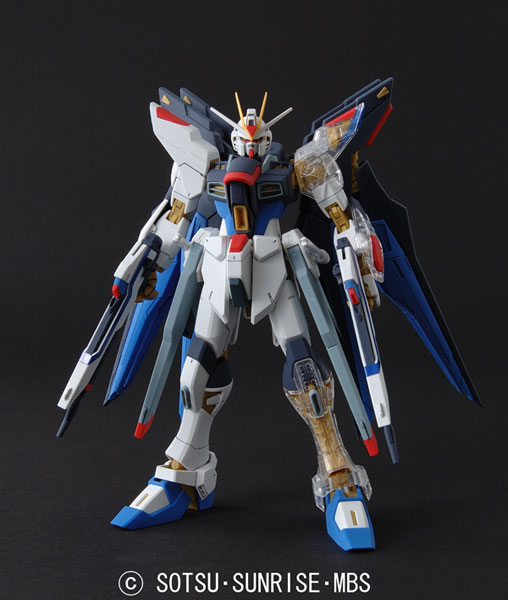 Update (03/31/2010)
: Translated English Construction Manual of the Strike Freedom can be found
here
.
Can't believe that its only now that I've translated the color guide for the iconic
ZGMF-X20A Strike Freedom Gundam
flown by protagonist Kira Yamato in Gundam Seed Destiny. Along with the colors for the Strike Freedom master grade kit is the color guides for the two included figures of Kira Yamato and Lacus Clyne. I find it kinda weird though that there is no mention in the color guide of the Gold color used in the joints, intake, etc parts of the Strike Freedom.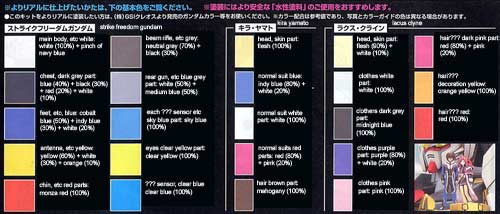 The Strike Freedom and the original ride of Kira Yamato, the Freedom Gundam both came from Lacus Clyne. Kinda cool having your rich girlfriend giving you a mobile suit whereas most rich girlfriends just give cars... *snicker*
The original Freedom Gundam was destroyed by Shinn Asuka in Gundam Seed Destiny with the use of the Impulse Gundam. Shinn Asuka was motivated by revenge to destroy Kira Yamato as the latter had killed Stella Loussier to prevent her from doing more damage with her GFAS-X1 Destroy. With the help of fellow ZAFT pilot, Rey Za Burrel , they studied the fighting style of Kira Yamato in the Freedom Gundam and used it to defeat him.
The selling price of the Strike Freedom Gundam is
4560 yen
at
Hobby Search
, 3,520 yen at
Amiami
,
3360 yen
at
HWJapan
and
4800
yen at
Hobby Link Japan
. Over at Amazon, 3rd party sellers are selling it for
$$$$
Image of the Strike Freedom were taken from Amiami while the color guide was translated from the manual posted at Hobby Search.