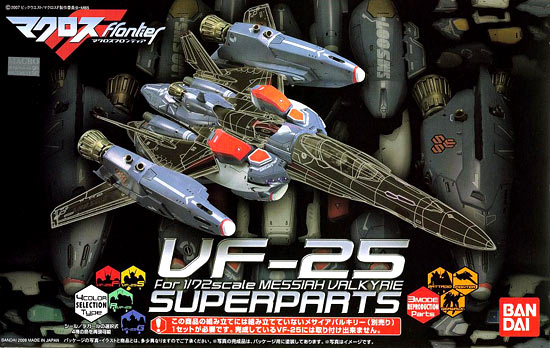 Update: 04/19/2010
: Translated VF-25 Super Parts manual can be found
here
.
In case you bought your 1/72 VF-25 Messiah Valkyrie model kit without any Super Parts, you can always buy it separately because it was sold as a
separate kit
by Bandai.
The super parts first made its appearance in the very first Macross SDF1 series in the early 80's. Hikaru Ichijo used a
VF-1S equipped with Super Packs
in order to fight off a flight of Zentradi threatening Misa Hayase's shuttle. The super packs give the VF additional speed and range with its attached boosters as well as added protection with its armor then offense with its cargo of missiles.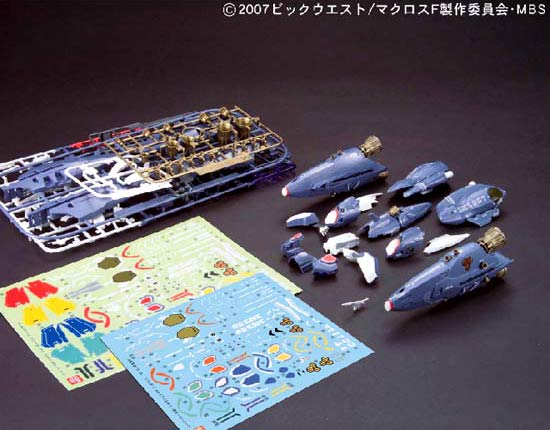 In Macross Frontier, the super packs used by the VF-25 Messiahs of SMS had the capability to be detached and re-attached from the VF without any assistance from maintenance crew. They also showed one instance where it was detached then set to orbit around the planet.
The super parts kits usually sells for
2000 yen
at
Hobby Link Japan
,
1800 yen
at
HWJapan
and
$$$$
at some Amazon 3rd party suppliers.
This super parts model kit comes with stickers and decals so that you can make your super pack to look like either the VF-25 Messiah of Alto Saotome, Ozma Lee, Michael Braun, or Luca Angeloni. Because of this the decal illustration at the back of the manual has a 4 colored box with different colors and a number inside for each part with a decal that's supposed to go on it (refer to picture below).
This is it to indicate which specific version this decal belongs to. So in the case of Alto Saotome, it will be the red boxes, Ozma Lee the yellow ones, Luca Angeloni the green ones and Michael Braun the blue ones.
Color Guide was translated from the manual posted at
Dalong