Released in 2001 by Bandai was the
Super Deformed
version of the venerable Guntank from the original Mobile Suit Gundam anime series. A gimmik of the model kit that is being touted by Bandai is its ability to swap its lower extremities with the SD RX-78-2 Gundam.
Construction Manual
of the SD Guntank was translated to English from the Japanese manual posted at
Dalong's Gunpla & Model Kit Review site
.
Available at these Online Shops:
(#Ads)
Similar Guntank
Related Color Sets, Add-ons & Reference Materials
(#Ads)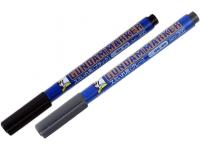 Related Products
Instruction Manual