My most favorite character in the GI Joe series was Flint. You can't have Flint in your collection without also having Lady Jaye in there as well since they were a "couple". Weird reason really for buying a toy at such a young age but because of the nature of the storyline, it just made sense *snicker* The Lady Jaye figure was part of the 1985 line up of GI Joe Real American Hero toys by Hasbro.
Lady Jaye's file card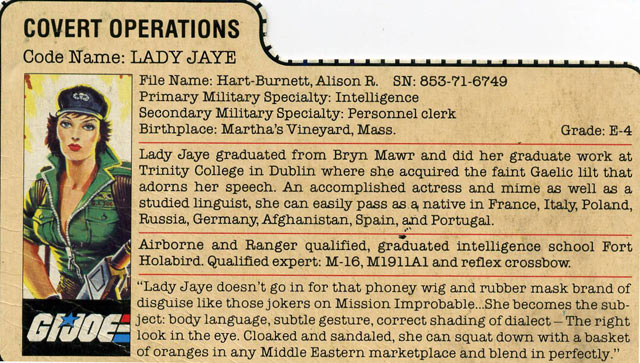 More pictures found in the succeeding page.
In the television series, Lady Jaye always had some specialty spears as her weapon of choice. In the toy however, I'm not so sure what this is.
In this day and age of gunpowder and modern warfare, I'd stab my commander with a spear if he insisted I bring it with me to battle...hehehe
Lady Jaye's backpack