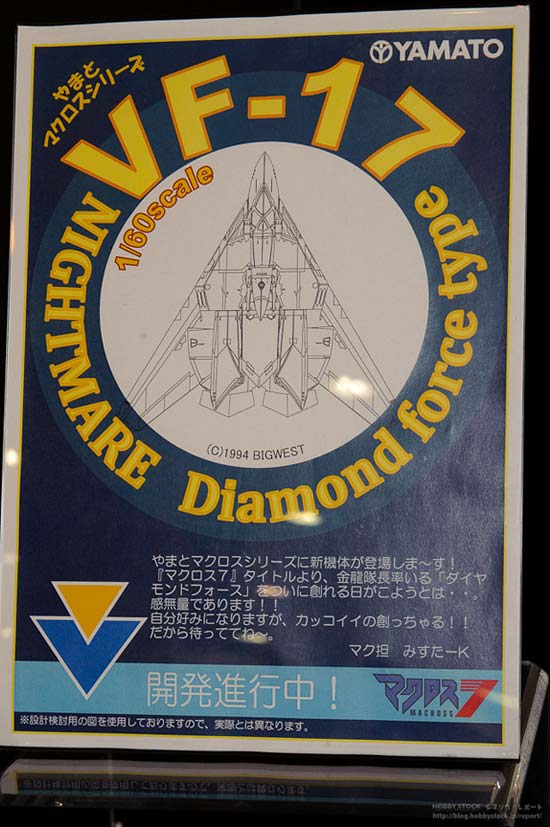 Hellooooo Christmas!, just saw this
post
at Hobby Stock Blog's coverage of the 50th Shizuoka Hobby Show. Its the booth of
Yamato Toys
where they announced the development of the Diamond Force's VF-17 Nightmare that operated off Macross 7.
We also get to see the
1/60 Brittai figure
that they announced last year. I'm assuming of course that that's the soft vinyl figure that they were talking about. Doesn't that sign mean no pictures please, Oops!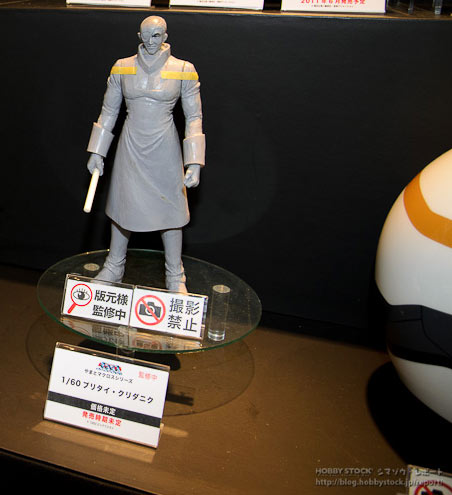 Also announced was the Sound Booster for the
VF-19 Fire Valkyrie of Basara Nekki
, but for me that has always been "meh!" (The bugger's not even wearing a bloody flight suit!...out in space!!!)
I always admired the quality of the designs from Yamato Toys, especially the 1/48 and 1/60 Macross series. They really upped the "Bar" when it comes to the quality of realism in Macross Toys. I'm thankful too that they've decided to expand their Macross Toys series as it gives us fans more things to collect and add to our display cabinet. I could spend hours just looking at my Macross toys in my display cabinet, they help relieve my stress and inspire my creativity by just looking at them. I wish too that they never grow tired of bringing Macross mecha to vinyl and plastic.
But there is a price to be paid of course for the quality and adherence to realism, and that is a toy that could easily break if you play with it. Which I've mentioned before that those 1/60 Macross kits from Yamato Toys aren't meant to be played with by your hands, but rather to be savored by your eyes like the way your mouth savors fine food or wine. You don't play catch with a bottle of wine, you just don't.