I guess its safe to assume that the Vipers that came out in 1986 from GI Joe Real American hero 3.75 inch action figure was the upgrade to the Cobra: The Enemy action figure. This was the "new" cannon fodder Cobra trooper that GI Joe trained their sights on during battle.
File Card for this figure can be found below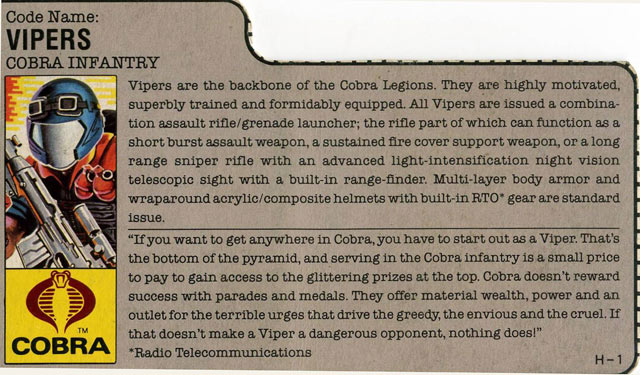 I think 1986 was a turning point in my affinity for GI Joe. Gradually as I saw the designs being more unrealistic, I lost my attraction for all things GI Joe. To think that that was what made GI Joe appealing for me in the first place, which was their realistic portrayal of military toys.
More pictures found in the succeeding pages.
Close up of the domed helmet. I couldn't understand why there were goggles on top of the helmet. *snicker*
I am assuming that this recessed detail at the back of the helmet is the Radio Gear that the file card mentions that each Viper trooper has
According to the filecard, each viper is issued a combination assault rifle/grenade launcher that can function as an assault or cover assault weapon as well as a sniper rifle.
Back pack of the Viper