One of my most favorite figures from the G.I. Joe Real American hero line of 3.75 inch figures. Beach Head was a US Ranger before he became part of the G.I. Joe team. You can read more on his history from
here
.
Beach Head's File card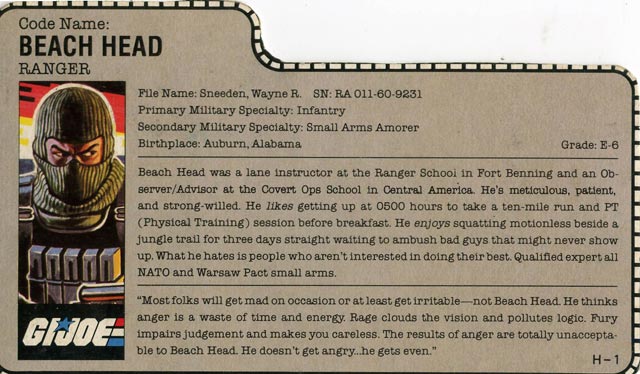 I have to admit that it was the overall toughness of the figure on first appearance that attracted me to it. Toughness of course could be definied as being fully loaded with magazines for your submachine gun. Judging from his get-up, this guy just doesn't want to run out of ammunition in a gun fight.
Red Beret on his shoulder could be from his having Airborne experience.
Beach Head figure came with a spare ammunition sling bag
Back Pack of Beach Head. Never really understood what that thing was on the side that looked like a RPG rocket. His back pack looked like a rocket pack to me. It could be satellite communications gear with the RPG thingy being a folding antenna.
The weapon that came with Beach Head was a submachine gun