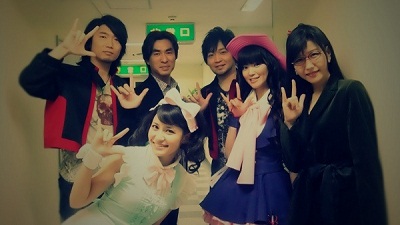 Dropped by the
Blog of Aya Endo
, voice actress of Sheryl Nome from Macross Frontier and was amused to see this picture in this
post
. Its the cast of Macross Frontier cosplaying as their respective characters.
Now that's Fan Service!, check out these other posts (
here
and
here
) for more pics. I think I'm too old to gush about voice actors, but I've posted here before that Aya Endo is one voice actress that I admire because her speaking voice is different from her actual voice. Which in my simple world is what I judge to be the criteria for what a great voice actor is *snicker*. Seriously though, some voice actors just don't bother to change their voice, then again its probably because that's what the director wants.
If we were talking about depth however,
Hank Azaria
is definitely the epoch in my best voice actor pyramid. I laughed my ass of in the
Bird Cage
when I first saw him and was surprised to find out that he voices most of the minor characters in the Simpsons.