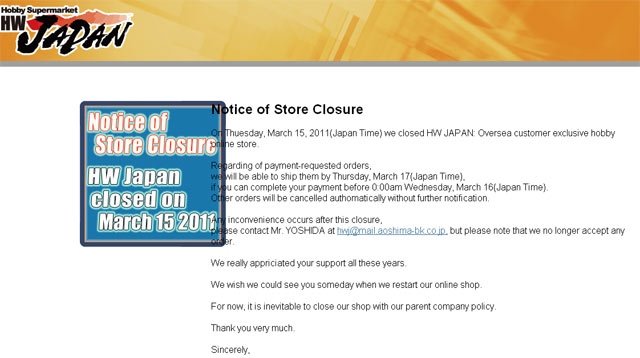 Update:
Just got a reply from them, message can be found below.
Update:
I googled about HWjapan's closure and I came into
this discussion thread
. The post of the discussion happened on March 10, 2011, way before the events of the earthquake, meaning that their closure could be for a different reason. Just sent them an email, I hope they answer.
Announced a few days back was the closure of
HWJapan
. No doubt as a result of the current events unfolding in Japan right now. What with the possible nuclear meltdown of the nuclear reactors at Fukushima that was as a result of the Earthquake and the ensuing Tsunami.
HWJapan is actually a subsidiary of Aoshima, which produces model kits. It also one of the
reliable online hobby sellers in Japan
that I would without a doubt recommend to anyone after having tried them out.
I wish them Good Luck and I Pray that they have safe days ahead.
Below is the message on their site that I copy pasted:
Notice of Store Closure

On Thuesday, March 15, 2011(Japan Time) we closed HW JAPAN: Oversea customer exclusive hobby online store.

Regarding of payment-requested orders,
we will be able to ship them by Thursday, March 17(Japan Time),
if you can complete your payment before 0:00am Wednesday, March 16(Japan Time).
Other orders will be cancelled authomatically without further notification.

Any inconvenience occurs after this closure,
please contact Mr. YOSHIDA at hwj@mail.aoshima-bk.co.jp, but please note that we no longer accept any order.

We really appriciated your support all these years.

We wish we could see you someday when we restart our online shop.

For now, it is inevitable to close our shop with our parent company policy.

Thank you very much.

Sincerely,

HW JAPAN Staffs
Just got a reply from them, turns out that the closure is permanent with an indefinite time as to when they will reopen in the future:
Thank you for your contact.

We close our business permanently.

We may reopen in the future,
but we don't have specific plan at this moment.

Thank you in advance for your understanding.


Best Regards,
++++ ++++