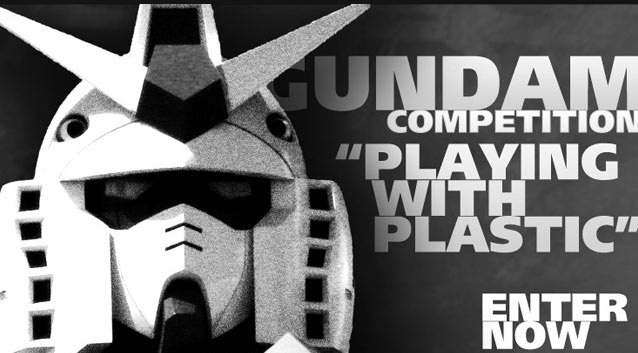 Announced a couple days back was a
Gundam Model Kit (Gunpla) competition
sponsored by
HobbyLink Japan
,
Tomopop
and
HobbyLinkTV
(sister site of HobbyLink Japan)
Those who qualify to be part of the contest automatically get a 10% discount voucher from HLJ which can be used when purchasing goods from their site (but excluding Early Bird or special clearance price sale items).
Submission of entries is from June 16th to August 16, 2010. Winners for this contest will be announced at HobbyLinkTV and Tomopop on August 31, 2010. Terms and Conditions for the contest can be found
here
.
The contest has two parts, you can enter in the
Best Photography
or
Best Video section
.
For the photography side, you can only submit one entry in one of the 3 subcategories: Best Gunpla Diorama, Best Gunpla Straight Build and Best Original Gunpla Work. Aside from the 3 subcategories, HLJ staff will also decide on the winner for the "Gunpla of Gunplas" from the entrants with the winner going home with a Master Grade The O model kit. Check out the contest page for more details on the
do's, dont's and how to
.
For the video side of the contest, the video should be posted at Youtube and shouldn't be more than 3 minutes long. Check out the
video contest page
for more details. If you're worried that you can't enter because don't have a video camera, well, most digital cameras and cellphones with cameras have some video recording feature, so I guess this should be good enough. I saw an
interesting stop motion video of some gunpla
made by a Japanese youtube user that was quite entertaining.
Not wanting to be a spoil sport, but people who join this contest should be honest enough to use genuine Gundam model kits and not bootleg ones. If you really love Gundams and want Bandai to continue producing great model kits, then as a fan you should support their effort by buying genuine Bandai gunpla kits.