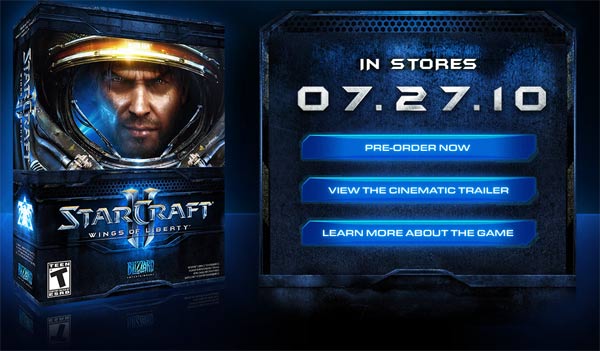 Woke up to some very good news. Blizzard officially announced that
Starcraft2 will be released worldwide on July 27, 2010
. It definitely is welcome news to the fans who lucked out on the Battle.net beta key that Blizzard was giving out to players early this year to beta test their game.
The game is already listed as available at Amazon for preorder:
Starcraft II: Wings of Liberty Collector's Edition($99)
and the basic
Starcraft II: Wings of Liberty($59.99)
. According to the produce page at Amazon, if you pre-order from them you get a free "beta" invite key that will be emailed to you in five days and will allow you to participate in the beta testing that is being conducted now by Blizzard.
Starcraft2 is officially titled as "StarCraft II: Wings of Liberty" and is set 4 years after Starcraft: Brood War, an official expansion pack of the original Starcraft that was released in 1998. It was also announced that there will be two expansion packs that will be
made as a sequel to Starcraft2
, these are: "Heart of the Swarm" and "Legacy of the Void".
Despite it being 12 years since the release of the original Starcraft game, it is still quite popular among players especially in Korea. In Korea it is heralded as a professional sport where pro players are paid, sponsored and develop a fan base.