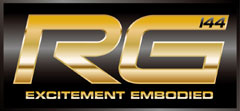 Update (07/24/2010)
: Just saw
this review
of the Real Grade RX-78-2 up at HobbyLink TV,
Just saw
this
posted in BAKUC's Facebook Page, an announcement for a new line of Gundam Model kits that is being called
Real Grade (RG)
that will be released this summer (July 24, 2010). It's
page is already up
at the Gunpla 30th Anniversary Site.
I saw this a few days earlier at
Bandai's Gundam site
but had not idea what it meant. Now it becomes more clearer with the explanation that it is a new line of 1/144 scale Gundam model kits that will have more realistic details as well as decals. Part of the write-up says that it has "complete reproduction, advance ms joint, realistic decal"
If its really more detailed than the current 1/144 High Grade series it must mean that Bandai has cooked up some new technology in some new-fangled-machinery that they using in building this line of model kits. Because it looks very hard to be able to add that kind of detail in such a small kit. Either that or they're using better plastic materials that allows that kind of detail to be added.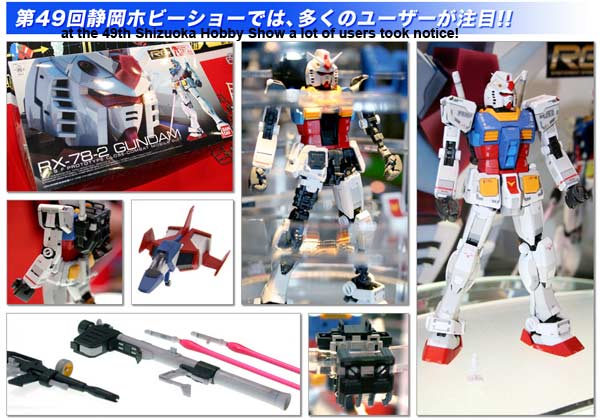 Looking further at the site literature, it looks to be an interim model between the high detailed 1/100 Master Grade series (MG) and the 1/144 High Grade Series (HG). In some areas the RG is looking to be more superior in no. of parts and features than the MG series.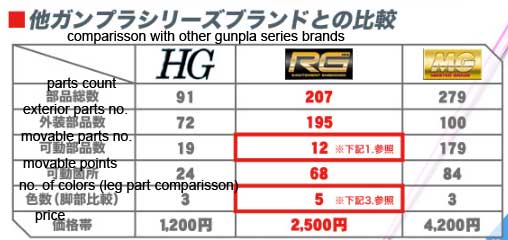 Personally though I prefer the size of the 1/100 scale. Looking at the video it looks like they're releasing first the original Gundam RX-78-2 (2635 yen) of Amuro Ray in Gundam 0079 for their first kit. I'm assuming that a Zaku will be next. Char's probably.
Update:
whoops!, looks like
from the pictures at the 49th Shizuoka Hobby show
the 2nd RG model will indeed be a Zaku.