Saw this last week and forgot to post about it. I noticed that
HWJapan
, the online sales front of model kit builder Aoshima, decided to modify their sales pitch on Gundam model kits.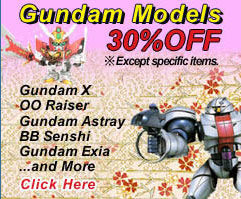 Their
previous Gundam sale
(which has been going on for the longest time already before it was replaced by this one) had a blanket 30% discount on all Gundam model kits. This time they changed it to include the condition "except specific items."
Browsing through the listed items, it looks like the new kits released have a 27% discount instead of the 30%. Fair enough. At least Gundam fans are better off than Macross fans, because the discounts given to them fall between the 6% to 25% range... hehehe.