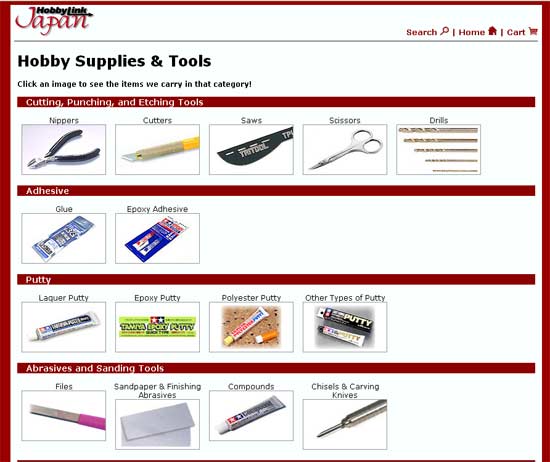 Just saw this recently on
Hobby Link Japan's (HLJ)
web page, a
new page
that makes it more convenient for model kit builders and hobbyists to browse their hobby tools inventory.
HLJ has always been a good source for tools and materials related to model kit building because of the sheer size of inventory that they carry.
Based from the "millions" of articles I've read on model kit building already on the web, I can't help but think that a model kit builder is only as good as his tools. Repeat after me: "model kit builders cannot subsist on hardware stores alone" ... hehehe.
To get good model finishes you really have to invest in the "good" stuff, like the airbrush, the paints, the primers, the tools, etc. But aside from that you also have to invest in the model kits and the time to hone your craft. Of course you also have to have the guts to experiment modelling techniques. The inquisitiveness to ask how it was done and go out of your way to research and consult.
One final unsolicited advice with regards to HLJ's tools page is that be prepared to lose track of the time when you are searching in there because you will be in Hobby Tool Heaven when you are going through the stuff in there. Aside from HLJ, the other Japan based online shop that I know carries a sizeable inventory of hobby tools is
HWJapan
.