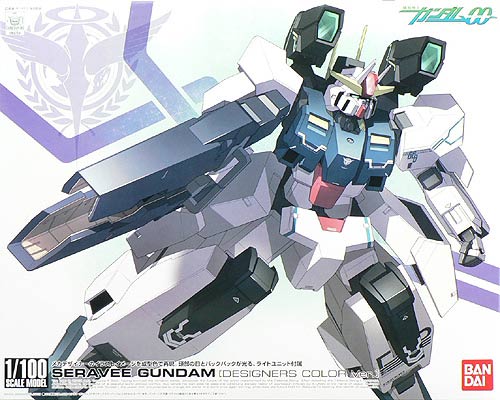 Tieria Erde's
GN-008 Gundam Seravee
from
Gundam 00 Second Season
that replaced the
Gundam Virtue
. Like the Gundam Virtue the Seravee also plays host to a second Gundam, the
GN-009 Gundam Seraphim
. Unlike the Gundam Nadleeh however, the Gundam Serpahim is not encased within the armor of the Seravee, rather it is a separate Gundam altogether that rides piggy back facing the opposite direction.
Like its predecessor, the Seravee is the heavy weapon specialist of the 4 Gundams that Celestial Being employs. Because of its bulk and girth the Seravee is always depicted to be the slowest of the 4, but it makes up for this with the firepower it employs and a GN Shield that it uses to protect itself from enemy fire.
Color Guide for the Gundam Seravee was translated from the manual posted at Hobby Search. Here's the color guide for the Regular 1/100 Gundam Seravee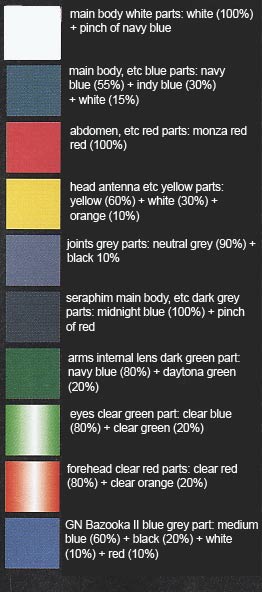 While here's the color guide for the Designer Color's version of the Gundam Seravee (click to enlarge)

The Gundam Seravee is also slightly more expensive than the regular 1/100 non-grade kit of Gundam 00 models made by Bandai, most likely because of the amount of plastic needed to make it what with the armor and Seraphim tucked within its inner frame. The Gundam Seravee Designer's ver costs
3990 yen
at
Hobby Search
, while the regular version costs
3420 yen
. The regular version costs
2520 yen
at
HWJapan
while the Designer's color version costs
2940 yen
. Over at
Amiami
it costs
3080 yen
for the designer's color ver while the regular one costs
2637 yen
. At
Hobby Link Japan
it costs
4200 yen
for the designers color ver and
3600 yen
for the regular variant.
More pictures of the Seravee at the following page taken from Amiami.