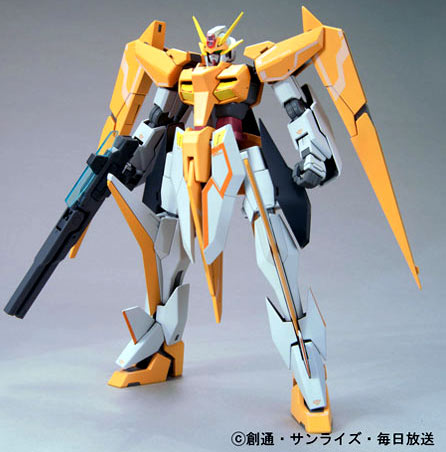 GN-007 Gundam Arios
from the Gundam 00 Second Season, piloted by Allelujah Haptism of Celestial Being that was made into a 1/100 non-grade kit by Bandai. The Gundam Arios was preceded by the
Gundam Kyrios
in the second season of Gundam 00. Like the Kyrios, the Arios can transform to airplane mode which gives it speed and maneuverability superiority over its opponents.
The Kyrios was destroyed in Season 1 by the combined efforts of Soma Peries and Sergei Smirnov in the
GN-X's
. Which also led to the capture and imprisonment of the Allelujah. After Allelujah was rescued from "Gundam Pilot Jail" by Celestial Being in season 2, he took over the piloting of the Arios. The Arios has a support unit, the GN-Archer that is both a fighter and a mobile suit and docks with the Arios to enhance its overall capabilities. Unlike the Arios however, the GN Archer does not have its own GN drive so its range and fighting time is limited.
Bandai recently released a Designer's color version of their 1/100 Gundam Arios and the other Gundam's of Gundam 00 Second Season. The difference from the regular Arios is that the colors used were that which the designers of the Mobile Suits intended it to have as well as the it usually has a LED unit to light up parts of the model kit as well as decals for markings.
Color Guide was taken from the manual posted at Hobby Search
This is the color guide for the regular version of the 1/100 Non Grade Gundam Arios: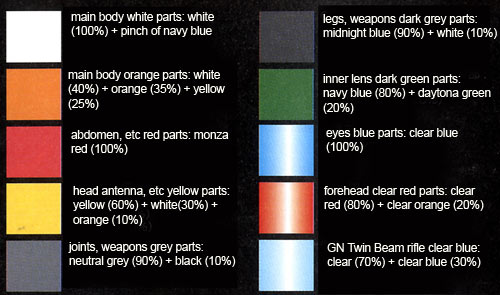 Here's the Color Guide for the Designer's version of the Gundam Arios:

Selling price of the 1/100 Gundam Arios over at
Hobby Search
is
2850 yen
for the Designer's Color ver and
2470 yen
for the regular one.
Amiami
is selling the regular one for
1907 yen
while the Designer' Color for
2180 yen
.
HWJapan
has the regular Arios for
1819 yen
while the Designer's color version is selling for
2100 yen
.
Hobby Link Japan
is selling the Arios Designer's Color version for
3000 yen
while the regular version is selling for
2600 yen
.
More pictures of the Arios from Amiami on the next page: