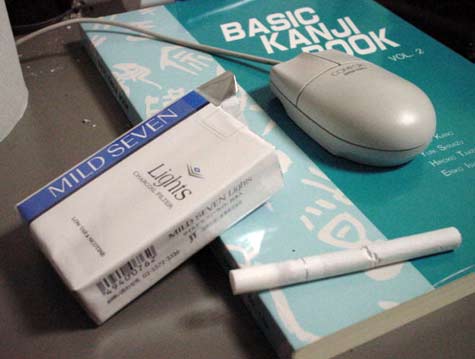 One reason I've decided to build model kits is so that I can stave off the urge to light up. The logic behind that is to have something else to do whenever the hunger for nicotine kicks in. Above is a picture of Mild Seven Lights, probably the most popular brand in Japan. I smoked that a lot when I was still there. Cigarette's ain't cheap in Japan, had I not been smoking I would have saved a lot more money.
I once made the mistake of buying a pack of Mild Seven with a different shade of blue, turns out that that one had micro holes near the butt. The effect of that was that you had to suck in a little bit more than normal in order to get your hit of nicotine. I think its purpose was to reduce your smoking intake by increasing the volume of air. I think though that it gave you gas because of all that added inhaling you had to do...hehehe
I could say that I was naturally predisposed to smoke because both my parents were smokers. From the first day of my life I had already been exposed to both my parent's round the clock smoking habit. But yeah, I'm not blaming them because it was still my decision to use smoking as a means to relieve stress.
One reason I'm trying so hard to kick the habit was because of the way my Dad died. Years of smoking took its toll on his heart. I used to think that when you died because of heart disease it would be swift, by just a heart attack. But with my Dad it was a few years of constant hell before he died because of the unbearable chest pains and shortness of breath. Then dying on an operating table because of a heart operation that took too long to finish. Definitely a sad and painful way to have to tread before finally meeting one's Creator.
Yep, between smoking and building model kits. Its definitely much safer to build model kits. Of course precaution has to be taken when painting and filing by wearing a particle respirator mask so that those toxins don't enter your lungs.