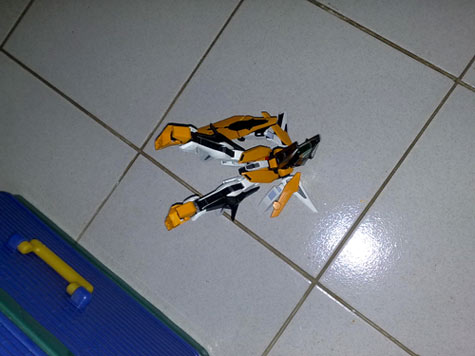 I saw my unfinished Gundam Kyrios on the floor when I woke up. The Kyrios had just experienced a 5 ft fall from the shelf to the
marble
tiled floor. I immediately picked it up to check if there were any damage or parts missing. I saw the gun hand a few feet away from the Kyrios. The force of the impact had knocked the hand out of its socket. As of first glance I'm not seeing any scratches nor missing parts.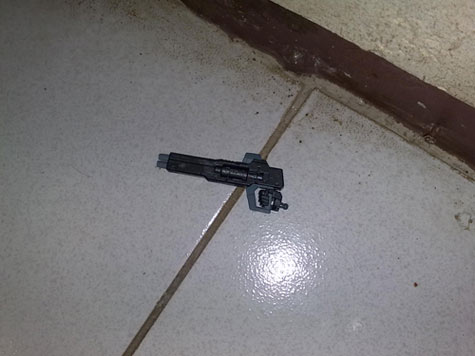 I was sure that I had placed the Kyrios in stable standing position so I was surprised that it had fallen. I realized now that I broke one of my own rules, which was not to place my kits on the edge of a shelf. Hence the reason
I moved my kits to another shelf
to prevent this from happening. After checking the local news online, I found out that my region had experienced an earthquake while I was sleeping.
Aside from a broken model and losing parts, the other worry I had was that the paint might have chipped. I'm thankful now that I had used some
plastic primer prior to painting of the kit
. This made sure that the paint wouldn't chip off so easily from the surface of the part. Also that I hadn't installed the head yet, seeing how Kyrios had fallen head first into the floor.
Things I should think about now for added security of my model kits on the shelf is installing some clear glass doors. Another is if I can install some carpeting to soften the impact if in case they should fall again.