Update:
Just found out that the paint component that you have to watch out for is
Toluene
, too much of this thinner material is what eats the plastic.
Wanted to try out another type of paint because the
Pylox brand
I was using was starting to get expensive. The local hardware store I bought it from had raised their prices by a staggering 60%. Plus of course I wanted to try out some other colors which Pylox didn't have. Once again my test subject was the Bootleg Gundam Dynames.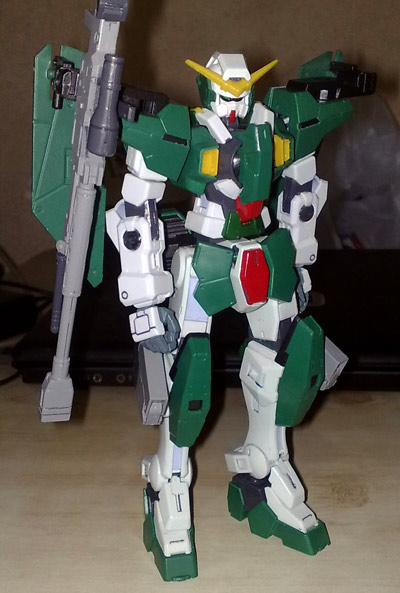 Based from reading online forums I found out that some commercial paints aren't really applicable to model kits because they can eat right through the plastic. It all boils down to finding the right combination of paints and primer in order to get the paint to work.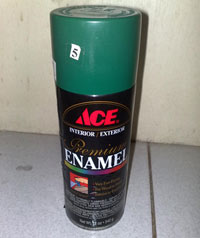 The paint I bought was from Ace Hardware, it was called Premium Enamel and came in a 340g can. The color I chose was Garden Green, in order to match the colors of Gundam Dynames. I was assuming that it wouldn't be designed for plastic because the literature on the side says that its good for wood and metal, indoor and outdoor use. So right off the bat I would have to have some primer on the part first before spraying this on. The logic behind this is so that the paint will eat the primer and not the plastic.
I first tried spraying on a part that was coated by Future Acrylic Floorwax that I use as a top coat. I didn't eat through the plastic but I noticed that I could discern the design on the other side of the part. Which could only mean that Future isn't a good primer for this because it eats right through it. Second I sprayed it on top of a part painted with Pylox Grey lacquer already. It didn't eat through, I noticed however that you can scratch the paint off with your nail afterwards. Meaning that the bond isn't that good. My last and most successful exercise was when I first applied
plastic lacquer paint primer
on it. The enamel paint stuck well to the primer and didn't come off easily when scratched.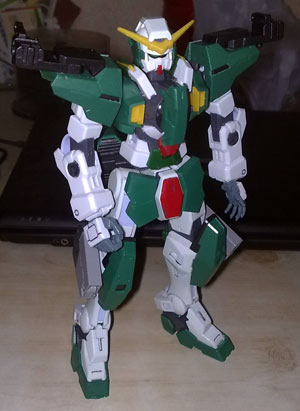 Some caveats however, this thing leaves a lot of paint particles so it would be wise to use a particle respirator mask and to paint outdoors. It also left a lot of paint particles on the floor which had to be cleaned up.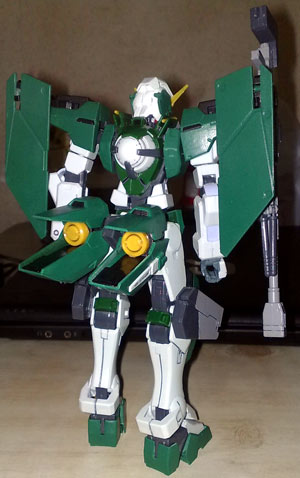 The Enamel paint from Ace was also different from your typical spray paint because its pressure wasn't as strong, which I extremely liked. And also the spray pattern was not your typical round spray pattern. It was more like a thin vertical line that I guess would be great in spray painting flat objects. Reading the literature on the adjacent cans that it was with, I found out that they refer to this spray pattern as "fan" type.
Below are some more pictures taken of the finished product with majority of the green parts painted over with the Enamel spray paint. You can see before shots of the
Bootleg Gundam Dynames from TT Hongli here
for comparison.
I was practicing my battle damage painting skills here *snicker*, using a file to remove some of the top coat to mimic scratches.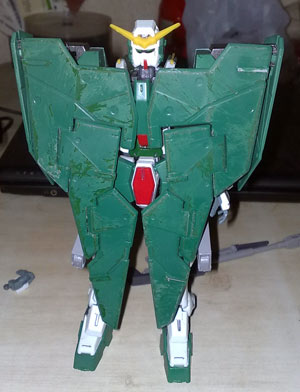 Was testing out some metallic Ash Grey from Pylox here for the internal parts of the rear thruster. Came out well I have to say.