Update (10/03/2009):
New blog post at Amiami
here
. Judging from
the better photo
featured in this post of the VF-27 which shows its size in relation with the other DX toys from Tamashii, its starting to firm up the evidence that this is actually the much anticipated 1/60 DX Chogokin VF-27...Woohoo! Notice how similar it is in size to the VF-25S armored of Ozma Lee found on the shelf.
Update (10/02/2009):
More updates from the Amiami and hobby stock blog found
here
,
here
and
here
Update:
Additional blog posts at Hobbystock found
here
,
here
,
here
and
here
First shots of
Tamashii Nations Autumn 2009
show at Akiba Square are already up at
Hobby Stock
and
Amiami
.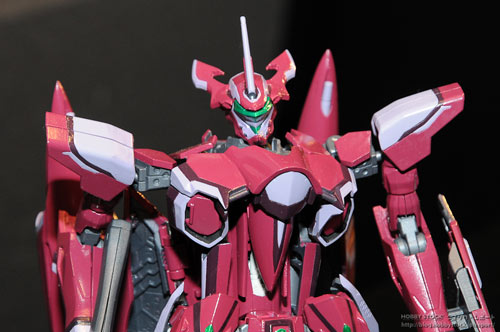 Of particular interest to me is this shot of a VF-27 Lucifer. Which begs the question, is this
a 1/72 model kit
or a 1/60 DX Chogokin of the VF-27 Lucifer? I'm asking this because Tamashii usually handles the DX Chogokin and not the 1/72 model kits of Bandai. Not to mention that the published
product line-up
of Tamashii for the show didn't say anything.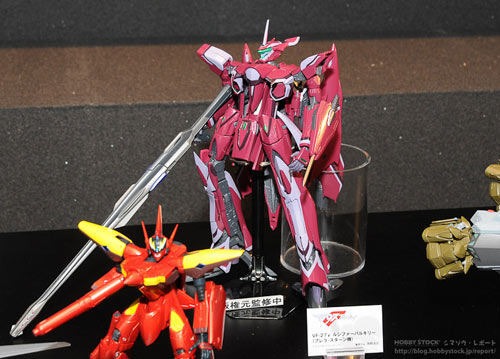 One other thing, in another
blog post
at hobby stock, in place of the price it just said that this VF-27 was a display model and the price had not been determined yet. While the real 1/72 VF-27 model kit is already up for pre-order with a price around 5000+ yen.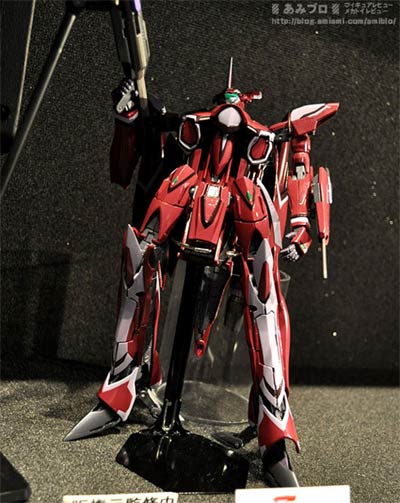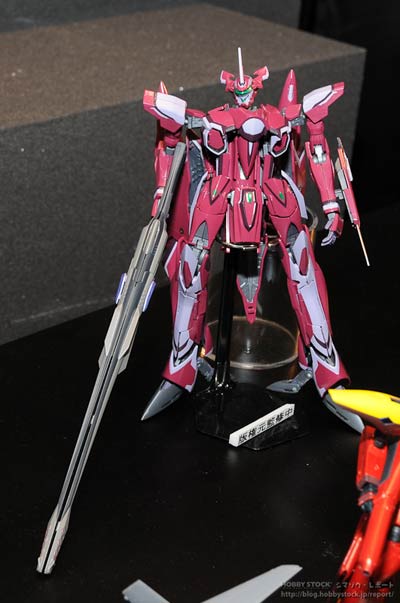 Also featured was a diecast
Hi Metal model of a VF-19 Fire Valkyrie flown by Basara Nekki
in Macross 7. Its supposed to be release by January 2010 and will retail for 7350 yen.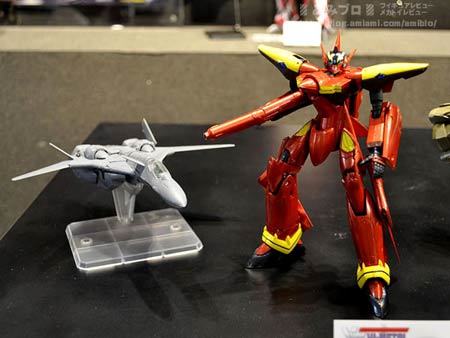 And the much awaited DX rendering of the Macross Quarter. Aside from the Quarter I see miniature versions of the Quadluun Rea, some VF-25's and a Vajra unit.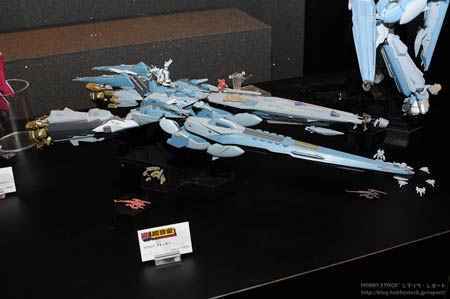 One other thing of interest to me shown at the Tamashii display was the LFO of Charles Beams from the Eureka Seven Franchise. I always liked the dark, distorted and rather tragic storyline of Charles and Ray Beams. With a can of red paint, one can easily repaint this in Ray Beams' LFO colors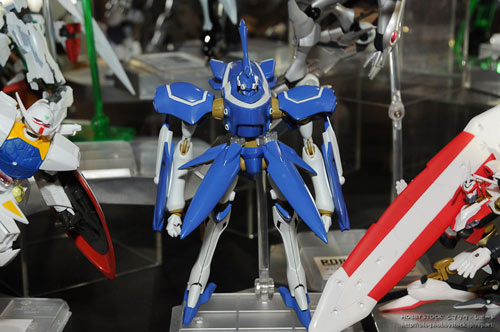 Macross Frontier Toys