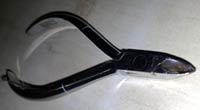 Before model kit builders began selling modelling kit nippers. Old school model kit builders were using Nail Nippers to cut off the parts from the plate runners.
The great thing about the nail nipper is that it is tapered, so that it can fit easily into the gaps between gate and runner. Also since it was designed to cut nails, it is wickedly sharp, so it will slice through regular gates cleanly and thoroughly.
The downside with the tapered design of the blade is the possibility that that it might chip off when used to cut very thick gates. And you don't want to be without any protective goggles when a sharp thing like that goes flying off.
Compared to the very expensive price of the
modelling
nippers
, this nail nipper is quite cheap. I got mine for a little over $2 at a local department store by the nail polish supplies. So don't scrimp by just borrowing you mother's/wife's nail nipper, you can catch hell for that when you forget to return it... hehehe
Sharpening it is quite easy too with just your regular knife sharpening block. I usually do it wet sanding style. I remember I learned that this was the better method during my "tour" with the Boy Scouts. For the life of me I can't recall why wetting the sharpening stone is the better method...blehhh
Model builders have long learned to scrounge for tools and materials from the produce of the local nail care industry. Aside from the nipper, hobbyists are known to use the acetone for removing paint, Nail file for removing gate stubs from the parts and even nail polish for painting their kits. I myself am trying to look for a good metallic blue nail polish to color
the visor of Michael in my 1/72 VF-25G kit
.