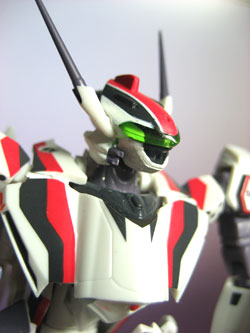 There's a saying that you only get what you paid for. So I'm quite happy that I only paid Y2400 for this toy since it was on sale at
HLJ
. Ok so I think its a still bit overpriced but almost anything with a Macross tag tied to it nowadays is overpriced and selling like hotcakes.
The toy comes in 1/100 scale and stands roughly 15cm tall in Battloid mode. With the aid of additional parts it can transition to Fighter and Gerwalk mode. So you could say that some assembly is required for this toy. Its very light because its mostly constructed of plastic.
Not sure why this was on sale though. Whether it was because it was the last few remaining inventory, so they're trying to get rid of it to make some shelf space for the VF100's version of Alto's Armored VF-25, or because its really not selling only
HLJ
knows.
If I were to base this review on the Y5040 price tag that Bandai is touting it for over at the
Bandai Site
, definitely its overpriced given the quality of the plastic and the workmanship. Design wise its a fine design for a display model and because of the size they had to work with. Because of the high price of Oil I'm not surprised if they had decided to cut corners on the quality of this product. Plastic is made from oil so its price is pegged proportionately with the price of oil. And oil hasn't been that low these past few years.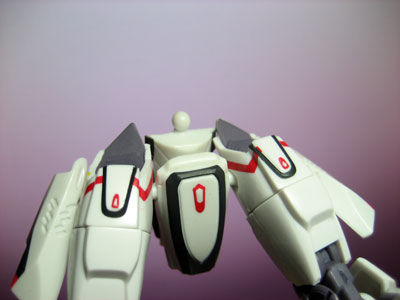 Off the bat, this is not a toy. Too many small parts that can come off and the ball joints connecting the parts together could easily wear down if moved too much. And when they become loose it affects poseability and the chance of the parts falling off is very high. So no kids for this one. As a display on a desk, this would be good because of its small size and as long as its viewed from a distance so that you can't notice the paint job on the head... hehehe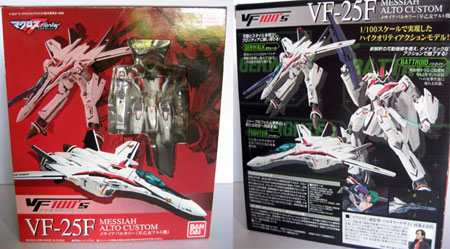 The box design is nice, it has a flip top cover with velcro so you can see the inside better. The toy is placed in a vacuum formed container. Comparing it with the
Revoltech toy's vacuum container
, the latter is much more sturdy. The kit comes with over 30 parts. Take care when opening the vacuum container as the parts might pop out of its seat.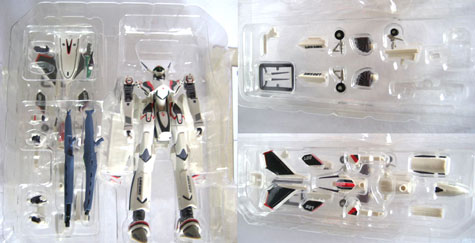 The reason there are a lot of parts is because in order to transform states (from Battloid to Gerwalk to Fighter mode) you are going to have to remove some parts from the present version and replace them with the parts that go with the version you want to transform into. Examples of which are the head, wing tips and hips that are usually different between fighter and battloid mode. So if you are planning to transform this a lot, I'd suggest having a handy small bag where you can place the other parts.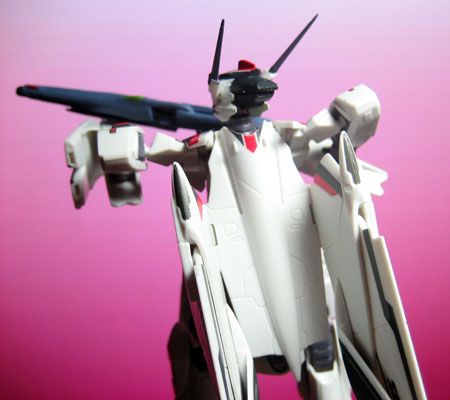 I confess that I was halfway through transforming this toy from Battloid mode to Gerwalk when I gave up because of the number or parts that had to be removed and added on, but most especially because I could feel that the ball joints in the legs were wearing out already after I had pulled out the legs and put them back on.
I was particularly irked by the shabby paint job on the chin of the Battloid. The white wasn't put on evenly. The other was the second gun pod, which was the closed down version and mounted in fighter mode. It was bent out of shape.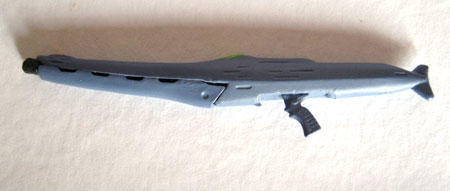 I'm not really disappointed, Its just that I'm tempted however, every time I look at that head, to get some thinner and remove the paint from the chin and repaint all over. I'm glad that I only paid 2400 for 1/100 scale toy... hehehe. But if this cost Y5000 yen, I'd definitely pass on this and save up for the DX 1/60 version of this instead.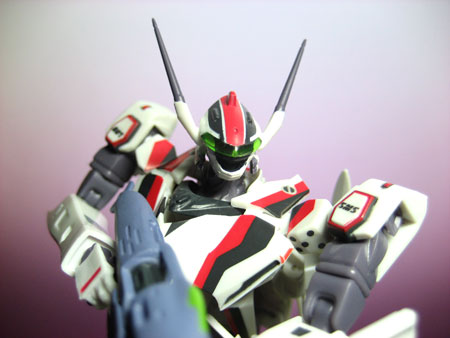 More pictures can be found in the succeeding pages.