The Action Base 1 released separately by
Bandai
for use in displaying their snap fit mecha model kits, quite a nifty creation really and very useful for displaying as well as keeping your plastic model kits safe. I would definitely recommend these bases for use on Bandai model kits that have a hard time standing up.
To expound further, a lot of the designs of mecha model kits we have right now are beautiful to the eyes, but the problem with them sometimes is that their center of gravity is not correctly placed because of the design (like having a large backpack or small feet, etc) that causes the model kit to get out of balance easily. Can't fault designers for that because if we did it the right way, I bet we would have a lot of ugly designs out there *snicker*
One other trick I learned from old modelers was to tape coins or other heavy items underneath the base in order to make it more sturdy.
Construction Manual & Color Guide
was translated to English from the Japanese manual posted at
Hobby Search
Available at these Online Shops:
(#Ads)
Similar Action Base
Related Color Sets, Add-ons & Reference Materials
(#Ads)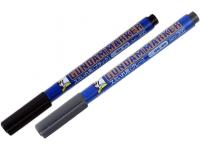 Related Products
Instruction Manual