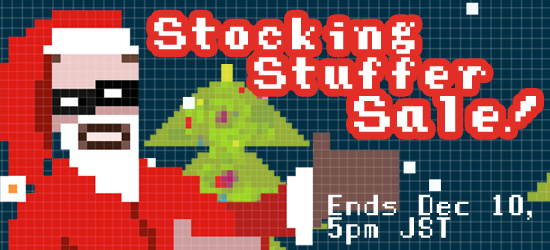 Announced by
HobbyLink Japan
a couple of hours back was the start of their
Christmas Stocking Suffer Sale of Toys, Figures, Model Kits etc
. Click on the button on the image to drill down to the corresponding yen value (50, 100, 200 and 300 yen to choose from) that the items are grouped in. Sale will end on 5pm Monday December 10 Japan Standard Time.
I remember when I was 5 years old our family practiced this tradition of hanging up socks on Christmas, then come Christmas Morning us kids would find these socks full of candy treats and sweets. Being a 5 year old I didn't have large socks so my eldest brother lent me his. I think it went on for a couple of years then eventually we didn't practice it anymore. Thinking about it now, I can't help but wonder why that practice went away from our household.
Probably because as we got older we all opened our gifts at the strike of midnight, so our parents didn't have the opportunity anymore to sneakingly stuff our stockings as we slept...hehehe.