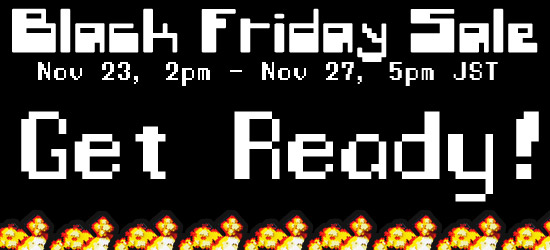 Japan based online Hobby retailer,
HobbyLink Japan
, gave a heads up today to
their annual Black Friday sale
. Sale will start on November 23 at 2PM Japan standard time and will end on 5PM at November 27.
There seems to be a twist with the prices on this sale as seen on the literature posted at their site (below)
Get ready for Black Friday and Cyber Monday!

Pick your price!


We'll be offerering six levels of savings over the Black Friday/Cyber Monday weekend, covering a huge selection of items in all genres! We'll have items in six price categories: 500 yen, 1000 yen, 1500 yen, 2000 yen, 3000 yen, and 5000 yen, with almost all items at least 50% or more off the normal retail price!


This sale will start at 2pm Friday November 23 JST and end 5pm Tuesday November 27 JST (that's midnight Thursday night EST to midnight Monday night PST). All prices will be clearly marked, so just grab your price and GO!