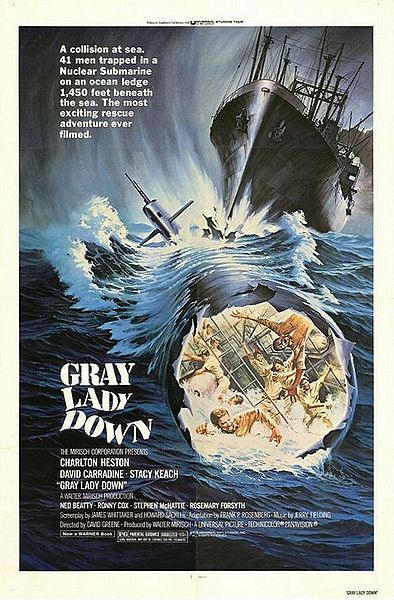 Never has a movie touched me so than
Gray Lady Down
, because it ignited a spark that inflammed a life long love for military submarines. I was only a couple of years old when my mother took me to watch this movie in the theatre and yet some scenes I remember vividly.
The movie, that came out originally in 1978, had an ensemble cast of Charlton Heston, David Carradine, Stacy Keach, Ned Beatty and yet a still unknown Christopher Reeve.
The movie revolves around the rescue of the USS Neptune (referred to as the Gray Lady) after it was accidentally hit by a freighter. In order to rescue it they needed the help of the DSRV and an experiemental submarine, piloted by David Carridine, known as the Snark.
Because of my young age my mother would refer to the USS Neptune as the mother submarine, the DSRV as the father submarine and the Snark as the baby submarine. After looking at clips of this at youtube I never realized till now what a tragic movie it was.