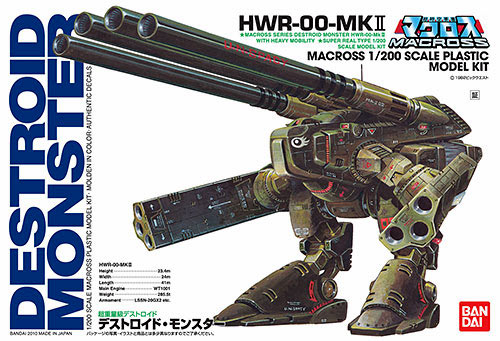 When Bandai announced last year that they had purchased the original molds of Imai and were planning to reprint their line of Macross kits, a legion of fans like me rejoiced. If you wanted kits like these you had to employ a ton of patience in waiting while searching the inner bowels of the hobby section of ebay.
The Destroid Monster was one of the support ground forces in Macross SDF and functioned mostly as an artillery and for heavy saturation of a target area. Why I like this particular mecha is because of its unique design and its massive size. If you are adept with google, you can see scratch built Destroid Monsters in larger scales than the Imai 1/200 Monster.
Another kit that I would like
Yamato Toys
to take a shot of is a Destroid Monster in 1/60 scale, regardless of the price I think a ton of people will take a bite of this, given the quality and attention to detail reputation that Yamato Toys has.
The 1/200 Destroid Monster HWR-00-MKII is selling for
$$$
at Amazon,
1450 yen
at
Amiami
,
2000 yen
at
HobbyLink Japan
,
1700 yen
at
Hobby Search
I have my doubts as to the black green part of the color guide, it says that its color is 100% green. There is no logic to calling something black green when its color is just plain green. I'm assuming that there has to be some element of black put in the real color like the khaki green color. Kindly use at your own risk. Color Guide & Manual for the 1/200 Destroid Monster was translated to English from the Manual and Color Guide posted at
Hobby Search
Available at these Online Shops:
Related Products