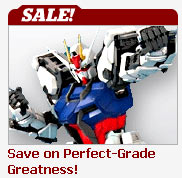 Just saw this recently on the frontpage of
HobbyLink Japan
. An announcement for a
sale on 1/60 Perfect Grade kits
made by Bandai. Expect 30% discounts on some of their perfect grade kits. Sale will end on December 15, 6PM JST.
The recently released
1/60 PG Strike Freedom Gundam
However was excluded from this sale. This is not limited to just Gundams as there is also an EVA unit included in the sale.
Haven't tried building a Perfect Grade kit yet but I sure would want to build one given the detail, number of parts, the gimmiks and the sheer massive size of it. So far the biggest kit I have built was the
1/60 GN-001 Gundam Exia
. I sure had fun building that one.