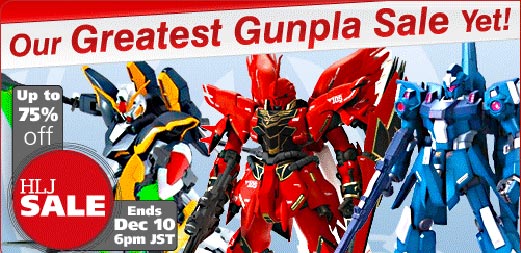 HobbyLink Japan
just announced another
round of marked down prices for their Gundam line of model kits
from Bandai that will last till December 10 of this year.
Great chance to stock up on Gunpla items this Christmas season whether your buying it for yourself or for another person. Taking a quick glance at the items in the sales page, discounts range from 20% to 70%. And by the looks of it, some stuff could quickly get out of stock, so you better hurry if you want to get some!
Another announcement that was posted in HobbyLink Japan's facebook page was the news that
Japan Postal would be halting air parcel shipments
with weights more than 16oz/453g to the United States and its territories owing to the recent tightness in security due to the terrorist bombing threats. Luckily,
HobbyLink Japan is not affected by this because of a previous contract signed with Japan Postal
. It looks like this applies only to air parcel and not those shipped by sea. Either way, expect a delay in shipping if it is sent by sea.
So if you are in the United States (or its territories) you might want to ask first the Online Store in Japan that you are buying from whether you will be affected by this or not. But of course, if you are buying from HobbyLink Japan you need not worry about this, other than the possibility of your package being delayed due to the tightening of security checks at customs.