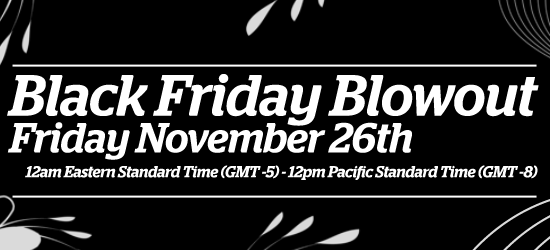 Update:
2011 HobbyLinkJapan Black Friday sale was announced
here
.
Kinda late on reporting this, but
HobbyLink Japan
announced today their
Black Friday sale on Model Kits, Hobby items, Anime toys etc
. Sale starts on November 26th 12AM Eastern Standard Time (GMT -5) till 12PM Pacific Standard Time (GMT -8). Still a couple more hours left as of this posting.
Wasn't really aware of this
Black Friday
thing till last year. Turns out that it became a tradition for stores to give huge discounts to sellers the day after Thanks Giving Holiday. So I guess you could say that this is the opening bell for the start of Christmas shopping.
According to Wikipedia the term Black Friday originates from the accounting term wherein a business becomes profitable. "In the black", wherein there is no more negative red numbers in their bottom line income statement. Some businesses are said to operate "in the red", without profit and rely on the onrush of sales during the Christmas season in order to turn a profit.