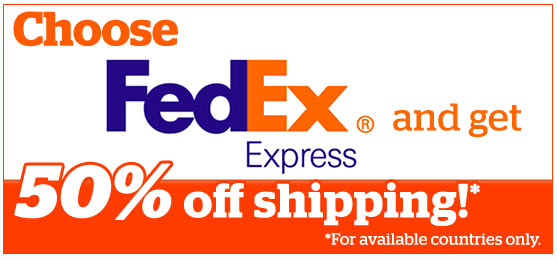 HobbyLink Japan
once again announced via email blast a
50% off promo on FedEx shipment
between
6pm October 4 and 6pm October 15, 2010 (Japan Standard Time; GMT+9)
for select countries. Previously they had already announced a
50% off FedEx promo July of this year
.
Countries excluded from this promo are:
Afghanistan, Bahrain, Bangladesh, Bouvet Island, Brunei Darussalam, Burkina Faso, Central African Republic, China, Christmas Island, Cocos (Keeling) Islands, Comoros, Egypt, Falkland Islands, Faroe Islands, Greece, Indonesia, Japan, Jordan, Kiribati, Kuwait, Lebanon, Mayotte, Myanmar, Nauru, Nepal, Northern Ireland, Niue, Pakistan, Philippines, Pitcairn, Portugal, Puerto Rico, Qatar, Russia, Rwanda, Saudi Arabia, Sierra Leone, Slovenia, Sao Tome and Principe, Solomon Islands, Somalia, Spain, St. Helena, St. Pierre and Miquelon, Sudan, Sweden, Tajikistan, Tokelau, Turkmenistan, Tuvalu, United Arab Emirates, Wales, Western Sahara, Yemen, Zimbabwe.

Also included in the email was this message from HLJ president, Scott Hards:
Also, watch your mailbox for another very important announcement from us about our sales and pricing early next week. It's the kind of news that will make all of our customers very happy!

I have a feeling I know what this is about basing on my observation of the previous actions of other online sellers in HLJ's league. But I'm not posting my thoughts on this online because of the power of the internet when it comes to rumor mongering *snicker*