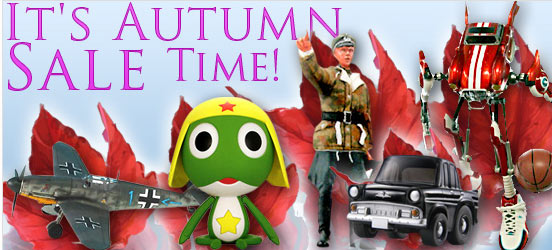 Autumn Sale
announced at
HobbyLink Japan
. It was only recently announced and now stuff is starting to get sold out. Better hurry to get your licks in while there is still time.
Christmas is around the corner and its a great time to take advantage of the discounts given by stores who are trying to clear their inventory in order to make way for the new stock that will come in for the Christmas season.
Definitely I wouldn't want to be in the high-volume, quick moving retail business. Its murderous with the stress of inventory tracking and the rate at which products have to be moved. I was once working in the high volume hi-tech manufacturing business and I have to say that I carry wounds within me that don't heal anymore. Any extra money I made in the overtime pay just went to pay my doctor and the pharmaceutical companies. Oh, and my addiction to nicotine which served as a stress coping mechanism. There was also the projected "work-hard-play-hard" mentally which I suspected was just my officemates way to blow off stress. I didn't suscribe to that thinking because I didn't want to spend my money on stuff that has only momentary value or something that I couldn't keep.
Well, if you are going to work in that kind of field, I'd suggest to work in a company that has a high profit margin. Low profit margin companies that rely on volume to make a buck will most likely make you bleed because they can't afford extra help or the means to automate their systems to make it easier on their employees.
Yep, yet another WTF post from me *snicker* Not really, just the thought of stuff flying off the shelf quickly at HLJ made me think about the people at the end of the production line hurrying to fill in orders. So be nice to the guy at the other end that you are placing your order at... hehehe