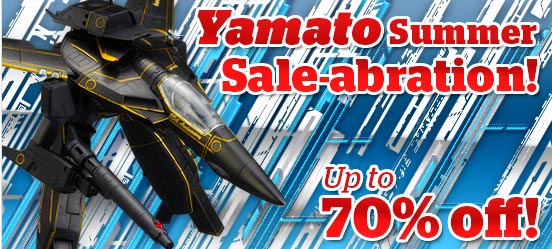 HobbyLink Japan
just
announced a sale on Yamato Toys
. Music to my ears and probably to other fans of the beautiful
Macross line of toys that Yamato Toys
produces.
As always, I would recommend to purchase right away as stuff flies off the shelf very fast at HLJ whenever they announce a sale.
Right now I'm cash strapped so can't really partake of this sale, not to mention I'm in Gundam-model-kit-mode right now so what I'm saving up for is for a double action airbrush. But hey if this sale made your day, Lucky You! *snicker*
Have to admit that I find the 1/60 scale of Yamato Toys a tad bit expensive yet worth it! Its only because of a Sale that I got to purchase the
1/60 VF-1S Valkyrie of Hikaru Ichijo DYRL
and its accompanying
1/60 VF-1S Super and Strike Packs
because it fit perfectly into my budget.
Not really on the top of my list to purchase, but if I had the option to buy anything from the 1/60 Macross line of Yamato toys, it would probably be the
1/60 GPB-1S Armored pack
for my VF-1S.