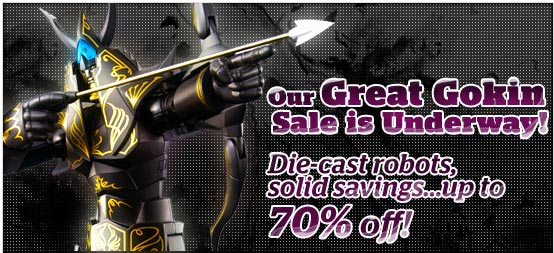 I think this was posted yesterday at
HobbyLink Japan
, a
sale on diecast robot toys
. A lot of DX Chogokin toys on this sale.
Notable items on this sale for me, because I'm a diehard Macross fan, are the
DX 1/60 VF-27 Lucifer of Brera Stern
and the
DX Macross Quarter of SMS
Speaking of DX Chogokin toys, I have to regret not being able to have purchased the
Soul of Chogokin GX-20 Getter Poseidon
being sold at HLJ. I had a feeling that it was the last remaining stock because it was there for such a long time and because its quite an old toy already. That was about 3 months ago when I checked, this month when I checked again, "poof" it was gone.
Definitely though, whoever bought that DX Getter Poseidon, is one happy person right now. Because if it were me, I would definitely be happy having a memento of a cherished childhood experience.
Speaking of another great childhood experience of mine was watching
Nausicaa: Valley of the Wind
. It was recently announced at HLJ that Bandai bought the original model kit molds for the
Nausicaa line of model kits
from another model kit company (Tsukuda Hobby) and started reproducing and selling these kits again. Definitely one of my "nice to have's", so I can fill up a cabinet of toys and keepsake's from my childhood.
Funny how when you are young you want to grow up so fast, but here I am now: old and wanting to reconnect with my past *snicker*