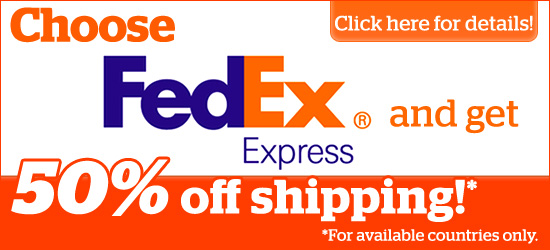 HobbyLink Japan
, a long-time and trusted Japan based online-retailer of anime and model kit related hobby stuff announced today a
50% off on FedEx shipping campaign
that will last from July 29 6pm to August 11, 2010 6PM (following Japan Standard Time; GMT+9).
In line with this they also announced a
sale on some Tamiya products
as well as on some
King-size
(basically large) items.
The item that really caught my eye on this announced sale and FedEx offer was the 60% discounted
1/400 Ptolemaios
mother ship from Gundam 00.
Have to take note also that not all regions can benefit from this offer:
FedEx shipping not available for the following countries: Afghanistan, Bahrain, Bangladesh, Bouvet Island, Brunei Darussalam, Burkina Faso, Central African Republic, China, Christmas Island, Cocos (Keeling) Islands, Comoros, Egypt, Falkland Islands, Faroe Islands, Greece, Indonesia, Japan, Jordan, Kiribati, Kuwait, Lebanon, Mayotte, Myanmar, Nauru, Nepal, Northern Ireland, Niue, Pakistan, Philippines, Pitcairn, Portugal, Puerto Rico, Qatar, Russia, Rwanda, Saudi Arabia, Sierra Leone, Slovenia, Sao Tome and Principe, Solomon Islands, Somalia, Spain, St. Helena, St. Pierre and Miquelon, Sudan, Sweden, Tajikistan, Tokelau, Turkmenistan, Tuvalu, United Arab Emirates, Wales, Western Sahara, Yemen, Zimbabwe.