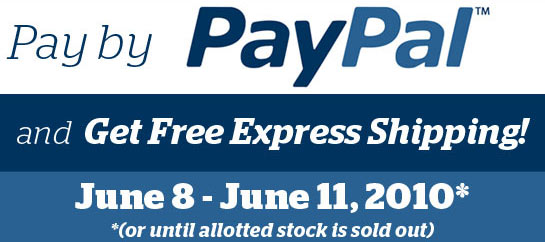 Update (06/09/2010):
HLJ just emailed that their promo
has already ended today
due to stocks running out already even before the June 11 deadline.
New promo
announced by
HobbyLink Japan
today. Another round of free express shipping (via FedEx or EMS) if you pay by Paypal when you purchase products from June 8 ~ June 11, 2010. The promo will officialy start at 6pm of June 8 Japan standard time or +9 hours from Greenwich Mean Time.
Some terms and agreement that you should take note of that was posted at their site


Campaign is valid only for orders placed and paid for with regular PayPal or a PayPal Billing Agreement between 6pm (JST; GMT+9) June 8th, 2010 and 6pm (JST; GMT+9) on June 11th, 2010 (or until allotted stock is sold out).


Only items shippable during the campaign period will be eligible for free shipping. Orders placed for backordered or future release items will be shipped (without free shipping) when they become available, as normal.


With a PayPal Billing Agreement, all in-stock and shippable items from your eligible order(s) will be automatically shipped, and your PayPal Billing Agreement charged as usual, in order to ensure that you get free shipping.


With regular PayPal, we'll send you an payment request e-mail when your order is ready to ship asking you to go to PayPal's site and authorize the payment to us. As usual, you will have two weeks to pay manually by regular PayPal (orders may be cancelled if not paid for within two weeks).


Orders shipped for free under this campaign will be shipped via Federal Express or postal service EMS, at HLJ's sole discretion, regardless of the shipping method chosen at order time.


As I mentioned before in this blog, whenever HLJ puts up a notice for a promo, its good practice to purchase right away what you want to buy because of the volume of HLJ's customers stuff can really run out quickly.