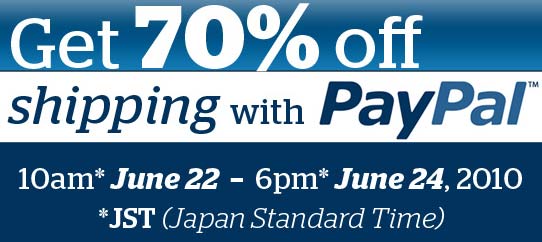 Update
: This promo
has been extended
till the 28th of June.
HobbyLink Japan
announced once again a new round of
discounted shipping if you buy from them using Paypal
as your payment method. This time 70% off on the cost of shipping was given when you buy from them between June 22 ~24, 2010. To be more precise, the time frame for the promo is from 10 AM June 22 till 6 PM June 24, 2010 (Japan Standard Time, GMT+9).
One important thing to take note of is that the item you are ordering
must currently be in their inventory
in order to avail of the discount.
Also, for customers who select EMS as their shipping method, the discount will be about 76% instead of 70%:
Customers choosing EMS postal express mail service will actually be getting 76% off the original postal EMS fees, since we are already offering EMS at 20% off the original fees! So, you're getting 70% off the already 20%-discounted fees...76% off! Fees shown here are the original EMS postal rate and our special campaign rate of 76% off. EMS only!