Amiami
posted
in their site yesterday
evening for customers who have recently purchased from them and had not gotten any reply (email confirmation, email shipping, etc) to check their spam folders for their email as some popular free online email services had classified their email as spam.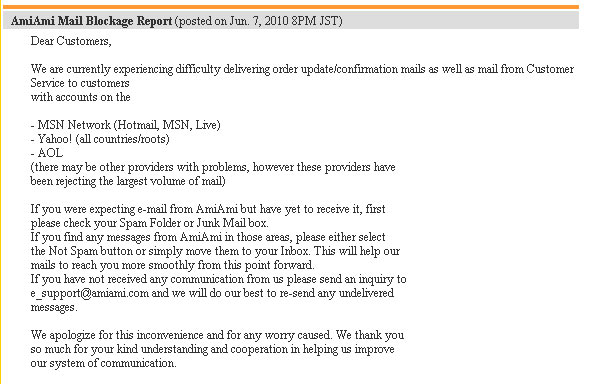 I had a friend who had the same thing happen to his website, wherein all valid mail sent by his server was being classified as spam. What he did was
use the SMTP servers of Gmail to send the server's email
. Since Gmail is a trusted source almost all other services will accept email from it. I don't know if that is still possible or if Gmail has already stopped it from being used in this way already ... hehehe
Amiami could also check if their servers are being used to send spam. This can be done by checking the email logs to see how much mail is being sent out per day and being received. If your server sends 1000 emails in an hour that should be classified as abnormal activity.