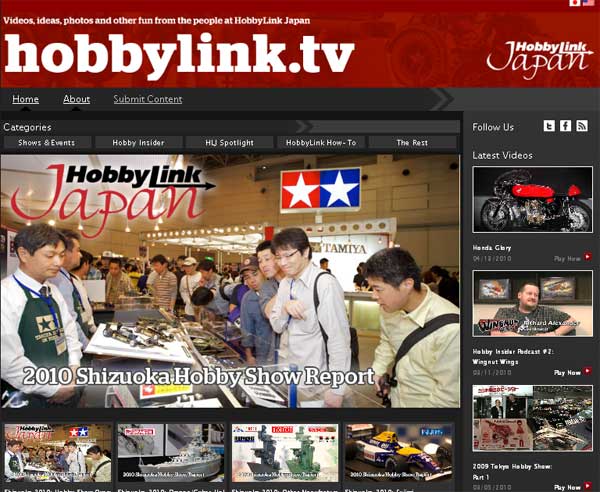 HobbyLink Japan
announced this week (May 18) the launch of their sister site,
HobbyLink TV
. I initially read about it from an email blast but when I went to the site I didn't see much because all I was seeing was
their photofest site
. It was only when they announced it at their
facebook site
was when I could really see the site they were promoting.
They posted in their Twitter page that their site was being hammered with the amount of users trying to gain access to their site, must be the reason why I wasn't seeing the correct site during the first time I accessed it.
I have a feeling that that was caused by the users trying to gain access to the videos posted by HLJ on their site. I think they could solve that problem by posting their videos at Youtube, that saves CPU, server & bandwidth resources as well as allows them to tap into the volume of users at youtube to promote their site to. I suggest this be done discretely by just placing a logo on their videos. Or if they don't want to do it this way, they can just configure the videos to not auto-play whenever a user accesses the page where the video is at so as to save on the aforementioned server resources.
According to the email the site will play host to their videos, (hobby) show reports and podcasts related to the hobby scene in Japan. They also want the site to work as a forum for their customers where they can talk about their interests. Also mentioned was of the future plan to eventually accept content from the customers to be posted on the site. I'm seeing a link already to a
submit content page
, so I guess the groundwork has already been laid down.
Sections I'd recommend and hope that they keep regularly up to date are the
How-to pages
and the
Hobby Insider Section
.
How-to pages because there is a lot of great modelling tools and materials coming out of Japan that gaijin modellers are not familiar on how to use(or even know about) because of the language barrier. While the Hobby Insider Section because its nice to know how the hobby and modelling industry works. I for one never get tired of watching
how gundam models are made
. Speaking of which, a video tour of the Gundam factory would be nice, or even just HLJ for starters *snicker*
And speaking of videos, wouldn't it be great if somebody made something like
Plamo Tsukurou
(building plastic models)? There is a lot to be learned from pro-modellers. Aside from educating modellers it helps to promote the hobby. How hard would it be? give a guy a kit and a handy cam, tell him to go build and film it guerrilla style then just add the voice over and narration/subtitles later, right? But yeah I'm no film major so don't trust me on that... hehehe
I stuck
their rss feed
to my feed reader so that I can be easily updated on new articles from their site.