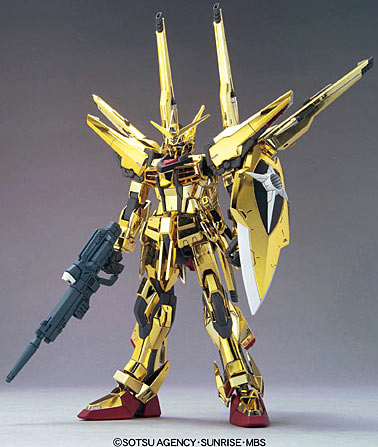 The ORB-01 Akatsuki Gundam of Cagalli Yula Athha developed by the Orb union in secret. Too secret in fact that even Cagalli didn't know of its development. This mobile suit was first seen in Gundam Seed Destiny but given the events surrounding its development and revelation to Cagalli it seems as if it was in existence or development during the time of Gundam Seed.
Similar to the Strike Gundam, the Akatsuki has interchangeable combat packs, these are the Shiranui and the Oowashi. What is very unique however to the Akatsuki is its golden skin and defense systems that allows it to resist beam weapons. Not just ordinary beam weapons though as it is capable of resisting even ship sized beam weapons.
Judging from the skin color and the name, I can't help but notice that the Akatsuki pays homage to
Char Aznable's Hyaku Shiki
from the Zeta Gundam anime series.
Construction Manual and Color Guide was translated to English from the Japanese manual posted at
Dalong
.
Available at these Online Shops:
Related Products
Prepare to be blown away by the price because the 1/100 non-grade Akatsuki is selling for
4770 yen
at Amiami,
5200 yen
at Hobby Link Japan.