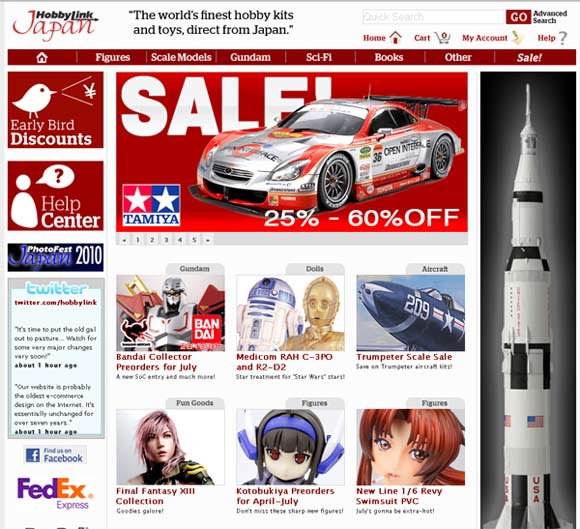 Was surprised when I visited
HobbyLink Japan's site
today because I was greeted with an all new design. According to one of their tweets at their
twitter page
, their site has been virtually unchanged from the time that they had started.
Haven't looked around much but at least I found all the landing pages that I usually go to (such as
Gundams
and
Hobby Tools & Supplies
), as for the other stuff I usually just use the search box on the top right when looking for items. HLJ's search function is pretty good, so you'll have an easy time looking for stuff.
Don't know if they missed out on this one or its not really part of the design, but I wish that they would provide a link to the older articles they've already put up. Like the first page for instance, you can only see the top 9 articles they've posted but not what came before that. Same with the other subsections (Gundam, etc) and the What's Hot and Just Arrived segments found at the right sidebar.
HLJ's site is fast so that's one nice thing about it. This is especially good since Google announced recently that
site speed will already be a criteria in ranking a site
in the search engine.
If you want to more about the daily life of the staff at HLJ, try checking out their
Facebook page
.