Update (01/30/2010):
Looks like it can be sorted by price already...woohoo!
Saw this message on
Hobby Link Japan's
front page:

An invitation for users to beta test their new
Early Bird section
.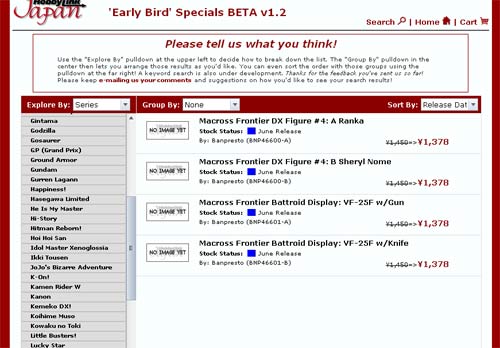 The results do come back faster, no doubt due to some AJAX on the browser and back end. I see also that they're using
scriptaculous
for their effects. AJAX can help make a site run faster because by using some built in browser functions, divs and javascript it can reduce the traffic between webserver and the browser by downloading only the data required and not the whole page. It has been criticized however for making a site not Search Engine friendly because it makes it hard for the crawlers to follow site links.
So far I'm liking it, especially with the way you have the option to sort the data via different means. You can't seem to be able to group items by price however. Would have loved that filter option.
Hope they implement this on the rest of the site.