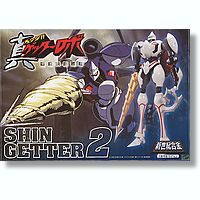 I've been seeing these Getter 2 toys on sale for the longest time at
HLJ
already. Months is more like it. And I'm definitely surprised that they are still on slashed/reduced prices. Must be an overstock or nobody is buying them... or worse, nobody knows that they are on sale! As a Getter fan, I just hate to see a good Getter sale passed up by other Getter fans.
First is the
Shin Seiki Gohkin Shin Getter 2
that was initially priced at 12800 yen, but is now going for only 3,840 yen. Then there is the
Shin Seiki Gohkin Shin Getter 2
limited edition Weathering version that is going for 5,120. There is also the
Black Edition Shin Seiki Gohkin Shin Getter 2
that is going for 6400 yen.
If you like old school getter, there is the
The Chogokin Getter 2
that's selling for only 600 yen.
As a boy I remember trooping to the old video rental store during the summer to borrow Jim Terry's Force Five series in order to indulge in the Amercanized version of Japanese Giant Robots. They were all my favorites. From the Starvengers (Getter Robo G), Gaiking, Danguard Ace and most especially, UFO Grandizer.