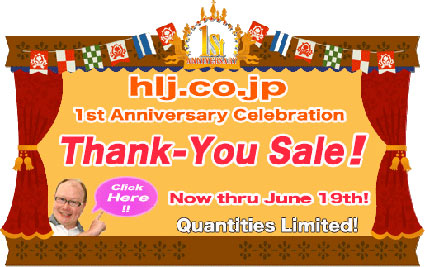 Hobby Link Japan
just announced a Giant Sale to commemorate the 1 year anniversary of the their Japanese site. The sale will last till the 19th of June. What no raffle? Ok kidding. Check out their sale page
here
. Of course HLJ has been in Japan for a long time already, the anniversary they're talking about is the Japanese version of their site.
It's the first anniversary of our Japanese-language site, hlj.co.jp--and we're so excited, we're giving you the anniversary gift: our hugest sale ever! An array of great items have had their prices slashed in celebration! Quantities are limited, though, so act fast!
Great timing too, just in time for the salary week. I already got my orders in yesterday because I saw the sale announcement in their Japanese site. Saw a lot of price cuts and some specials. I'm still waiting for the order people to contact me with regards to my submitted order though. Which will hopefully be today.
Time to get your orders in before stocks run out. Hayaku!